In 2020 Kekoas Korner decided to help people share their love not just for music. In true courageous Kekoas Korner's fashion I came up with an idea: Speed dating hosted by Kekoas Korner.
First I needed a location that was suitable for speed dating and I found it in the Green Room Zürich. A very cool pub with great food, cool music and great atmosphere… and lots of tables 😀
Luckily, I was welcomed with open arms and my idea of a speed dating event came to life.
The Launch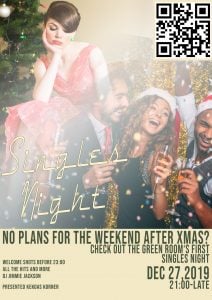 On Dec, 27th we are launching the speed dating events with a Singles Night Party. So if you are around please come say hello! Entry is free!
The details
So when are the speed dating events?
15th January
11 February
26 March
We will have two groups of 20 people. The early group will start at 6 and the late one at 7.30. Each couple gets 5 mins to get to know each other. And the best part is no cat-fishing in real life! 🙂
If we don't have enough people for two groups the 2nd one will be cancelled and only the 6pm will go ahead.
Starting a conversation with a complete stranger can be difficult for some but that's why you'll have your favourite song below your name tag. It's an easy convo starter and who doesn't love to talk about music?!
After the 5 mins both fill out a form where it's either a match or it's not.
After the groups are finished they can start mingling and will get their matches within the hour.
What's also great is the entry fee. It's only CHF 20.- so it's cheaper than a burger! 😀
How does it work?
You need to register yourself with the form at least a week prior to the event. Kekoas Korner will match appropriate ages and gender to the two groups. You will get an e-mail confirmation if your registration for the event was successful and you've met the criteria.
The registration
Sounds something that you're interested in? Great! Register right now with the below form:
Are you single and ready to mingle? Sign up for speed dating hosted by Kekoas Korner at the Green Room Zürich