A week ago I published the New Music post about Jack Savoretti where I told you guys that I'd be so excited to see him play and I was very curious. Well fast forward a week and here we are at Volkshaus in front row waiting to see if Jack Savoretti would fullfil my expectations. But I might have been even more excited to see his support act called Ward Thomas.
Ward Thomas – Voices from heaven
At 7.30 the two sisters Lizzie and Catherine took the stage accompanied by their two musicians. I saw the two girls at the C2C Songwriter Sessions in London and I fell in love with their voices. Unfortunately they only performed one song "Cartwheels" because they were actually just surprise guests winning the CMA Jeff Walker Global Artist Achievement Award! How cool is that?!
With "Carry you home" Ward Thomas took Zurich by storm. We fell in love with their angelic voices and their incredible harmonies. For the people who didn't know them it was a wow moment and for me it was "Yes, come on girls! Show'em what you got!" 😀 They got a nice applause and my friends and I were already wooping haha "It's not just me" and "Little Girl Sorrow" were next. The country vibe was full on and our country hearts were beating fast. And yes, finally, they performed "Cartwheels" where I was singing along! I loved that song!
"I Believe in you" followed my highlight of the evening and I was like please do not stop singing lol The applause grew and you could hear more wooping! They introduced "No Filter" as the song that got the ball rolling for them. It's about modern day social media and everything that comes with it. Another amazing song! After 30 mins it was again time to say Goodbye with a fitting song called "One More Goodbye". Now I can safely say Switzerland is ready for a full Ward Thomas show. So Lizzie and Catherine please come back with a headlining show! 🙂
A smooth start to the evening
With "Candlelight" a ballade from the new record Jack Savoretti opened the night. Like I already said it sounds sooo Italian balladesque haha and I think with this quiet start lots of die-hard fans were a bit surprised. "Love is on the line", "Dying for your love", "When we were lovers" followed. By then I knew I loved Jack Savoretti's voice, I loved his moves, I loved his good mood and his smile. It's pretty difficult to describe but if an artists makes you feel welcomed and happy and making you enjoy his music even though you don't know the lyrics he or she or they already won me over! That's exactly what happened with Jack Savoretti. 🙂

What I always love about concerts it's when you get to know the artist a little. In this case Jack joked about only writing songs about love and women but hey if you do it that well so why not. He also pretty much dissed his wife and we were like hold on that's not nice but we needed to wait for him to come full circle. She accepted his lowest moments (which he's got a lot of) but then at one point his wife showed her lowest point and he had to learn to love and accept her. But they stood their ground and they are more in love than ever! He made us laugh and introduced the next song with the following words:
I love the shit! Fuck the good stuff!
"Sweet Hurt", "Better off without me" and "What more can I do" finished off the first part of the set.
Breaking it down
Jack Savoretti sent the 5 piece band off stage now to break it down to just his voice and a very old piano. He told us that he got it for 500 pounds which is super cheap for a piano… Especially for us who spend 400 francs just for shoes 😀 Jack lived in Switzerland for 10 years so he totally gets us haha But what he was actually getting at is that being Italian he used to go to church and confess and then he's good. At confessions you are talking to a priest but actually you just talking to a piece of wood and to yourself so when he sits in front of that piano he is doing exactly that. On Monday night we were part of his confession singing "Things I thought I'd Never Do".

Definitely a highlight of the night followed. Jack Savoretti invited Ward Thomas back on stage to sing a cover of the beautiful song "Human". It was magic! If you want to see for yourself have a look at my highlights on Instagram.
He was about to introduce his next acoustic song when suddenly people started shouting. Unfortunately someone fainted and Jack reacted quickly stopped everything, asked for water and security. This is pure professionalism. He left the stage so that people could focus on that person. How do you come back from this? After the situation got sorted he came back and said that people needed to focus on this first. With that being said they could move on to sing "Soldier Eyes". As a trio Jack and Co. sang "Catapult" which was a beautiful way to end the acoustic set.
We were ready to dance!
The dancing shoes came out when Jack Savoretti played his biggest hit "Home! Everyone was singing along and was dancing. Even some people on the balcony stood up shyly and danced. The party started… But the Swiss audience didn't always know the lyrics. When Jack tried to hear the audience sing it was quiet and with a laugh he kept singing. It was such a funny moment! "Tie Me Down", "Touchy Situation" and "Youth and Love" were next. Slowly slowly the dancing shoes were on and the almost sold out Volkshaus partied.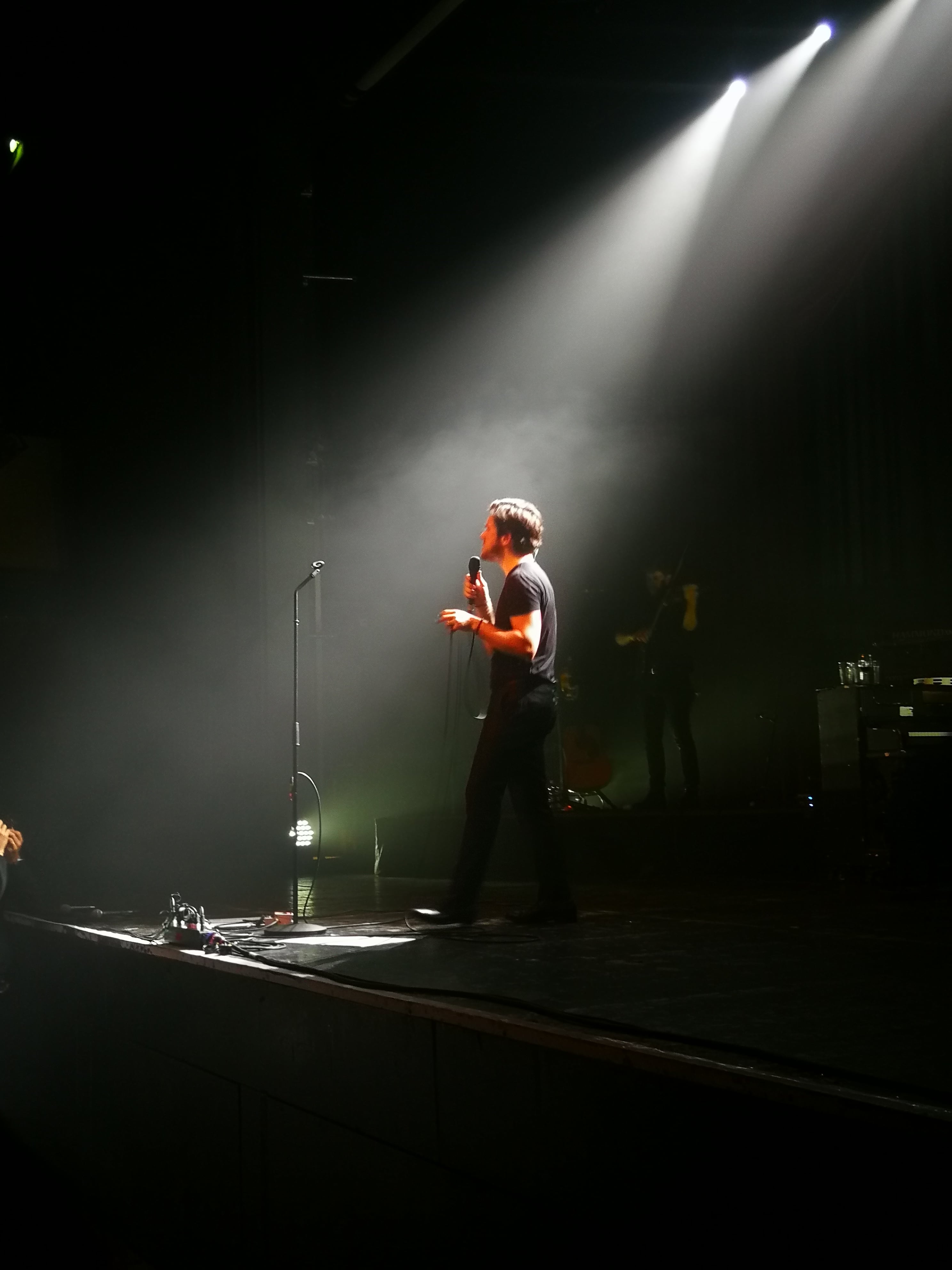 😀 Another hilarious story we got to be part of is when someone from the audience shouted "Crazy Fool". I didn't even understand it but Jack Savoretti somehow did. He kinda mocked the person saying that he loved the way he said it in a Swiss German way. He repeated it and I was nearly on the floor laughing!! 😀
"Other side of love", "Greatest Mistake", "Written in the Scars/Knock Knock" and "Back where I belong" followed. By now I fell in love with his bubbly personality and Jack Savoretti's raspy voice. After nearly two hours it was time to say goodbye again… But of course Jack loves Switzerland and will be back soon but before that we still had two songs left.
The Encore
Again Jack was alone on stage and started to explain why his new 6th record is called "Singing to Strangers". He said:
"When friends of my daughter would ask her why is your daddy coming and going all the time? I imagined her saying – I don't know – he's a super hero but she went: My Daddy is travelling around the world singing to strangers!"
A big "Awww" went through the audience. Jack went on to say you arrived here today as strangers but now you leave as friends and with that he started to sing "Singing to Strangers". For the last song he brought all the musicians and Ward Thomas back on stage. After a really cool gig Jack Savoretti and Co. left us with a super amazing rendition of "Going Home". All the feels I'm tell ya!
Jack Savoretti met my expectations easily! To Sum up the evening was a great mix of slow, acoustic and up-tempo songs and lovely stories and a great voice with amazing musicians. I will deffo be back and I hope we get to hear more of the support Ward Thomas! 🙂