After seeing Jacob Banks last year at Mascotte and trying to see him at his uber full gig at the M4 Music Festival I was stocked to learn that Just Because invited him back to play a gig at X-tra.
Anna Leone – a tiny lady with a big voice
A very shy girl in sweats came on stage with her guitar. Anna Leone fascinated with her voice. However lots of people decided to continue talking which was a shame. They missed out on a very talented artist and I could only hope that they would stop during Jacob Banks' performance.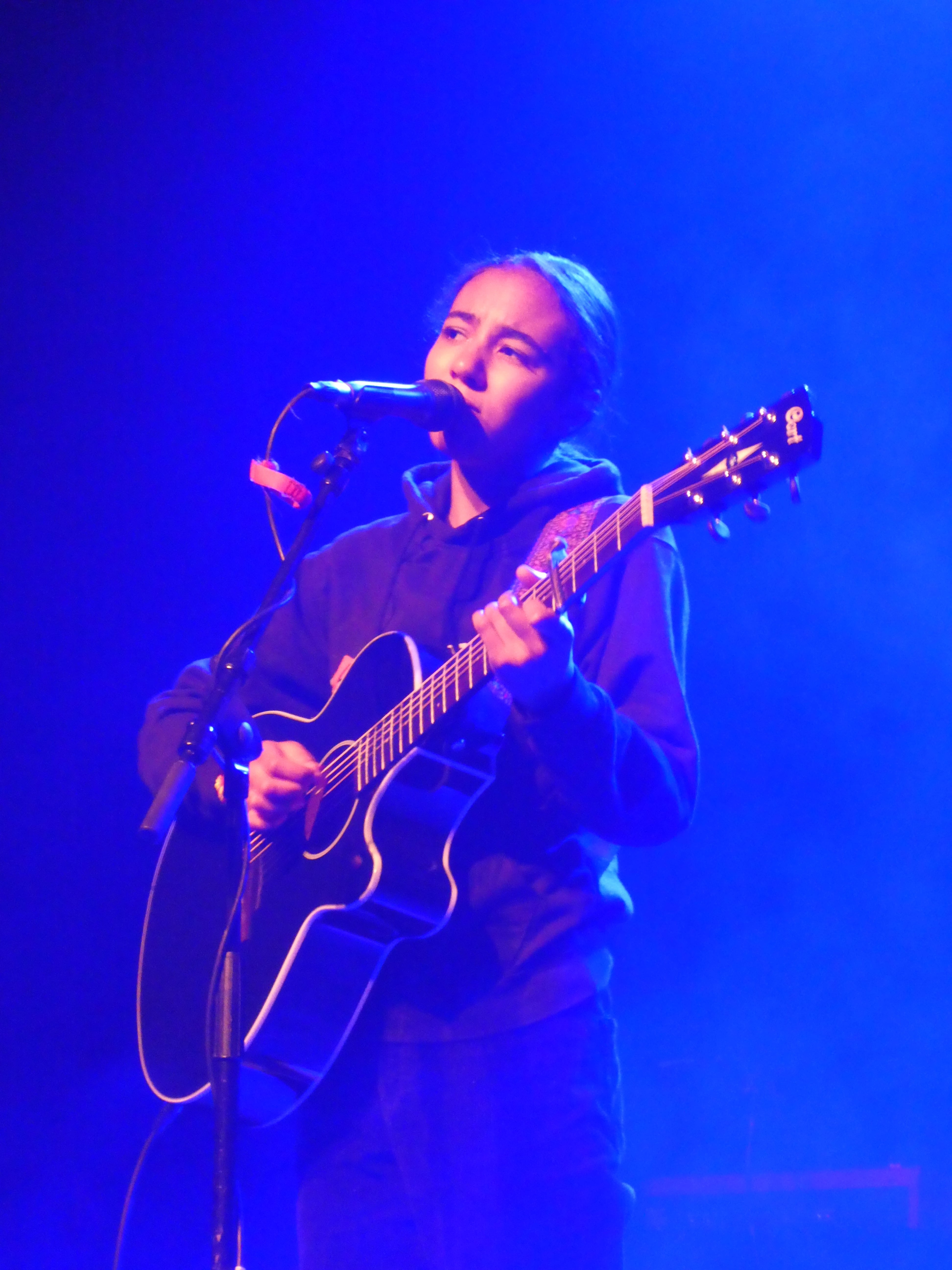 Jacob Banks is back and he got moves
Last year I was front row too but I really don't remember him having those super sexy moves. What was the same was Jacob Banks incredible voice. A voice that so soulful and magical that it gives you goosebumps every time you hear it. I loved the first song. It had sooo much energy! Unfortunately I didn't get a setlist this time so you will get a little different review.


Jacob Banks said thank you for being here very early on and he explained that he will sing songs off his newest record VILLAGE and some songs off his previously released EP's. With "Mercy", "Mexico", "Be Good To Me" we got lots of amazing songs already in the first 30 mins. But one of my highlights – sooo romantic – was the song "Caroline". X-tra was turned pink and we enjoyed this slow soulful ballade. I bet the many couples in the crowd loved it too. Speaking of the crowd it was so diverse! There were teens, couples and older people enjoying the same good music by Jacob Banks.
This next song "Pilot" is for the people who are coming to the gigs. It is not on any record because I want you guys to have something special others don't.
With that Jacob Banks took his guitar and sang "Pilot" which is a very beautiful ballade and I was mesmerized by his voice and that song. The time flew by listening to Jacob Banks because he fully captivates you.

Time to dance
Jacob Banks origins are Nigerian and so to honour them he wrote "Kumbaya". You can literally feel the African vibe and the three LED screens in the back showed some videos from back home. The crowd started moving too. After focusing on him and his voice so much it was good to let loose a little. Another highlight for me was when he covered "Fix You". Usually I get to hear it during Naturally 7's gig without any instruments! I keep repeating myself but I was fascinated to see the actual guitar sounding just the same! It was amazing!! 🙂 He earned so much applause which I think he didn't expect. His face lit up and we got see a huge smile. So cute!

With "Say Something" and "Unholy War" Jacob Banks rang in the last part of his show. After a versatile music mix we were getting the biggest soulful energetic songs at the end. The crowd loved it! 🙂 And of course all good things have to come to an end so Jacob Banks and his amazing 4 piece band left the stage before the encore. One by one they re-emerge and Jacob introduced them in a very sweet way. Each of them were brothers from other mothers and sisters from other misters 😀 I loved the fact that Jacob Banks seemed to have opened up a little and spoke to us a little more.
Finally he said that:
Thank you for choosing to be here. You could have spent your evening doing something else but you chose to support us. We really appreciate thank you so much!
and with that he introduced his biggest hit "Chainsmoking" and wooo's and yeah's rang around the X-tra. What a song! What a voice! What a man! Amazing moves! But see for yourself:
Amazing right? I'm so glad Loads of Music and I got to see this brilliant gig which was the last one in 2018. Here's to 2019 with many more gigs to be review here on Kekoas Korner! 🙂
Share your memories right here or on Instagram. 🙂