I'm a proud P!NK fan for 18 years and after her two shows at Waldbühne in Berlin I couldn't wait for the Beautiful Trauma World Tour. So we decided to do a little German tour ourselves. First up Berlin Olympiastadion, then Waldstadion in Frankfurt, Olympiastadion in Munich twice and finally Zurich at Letzigrund stadion. So here's my little recap of these awesome different five gigs.
The Support Acts
DJ Kid Cut Up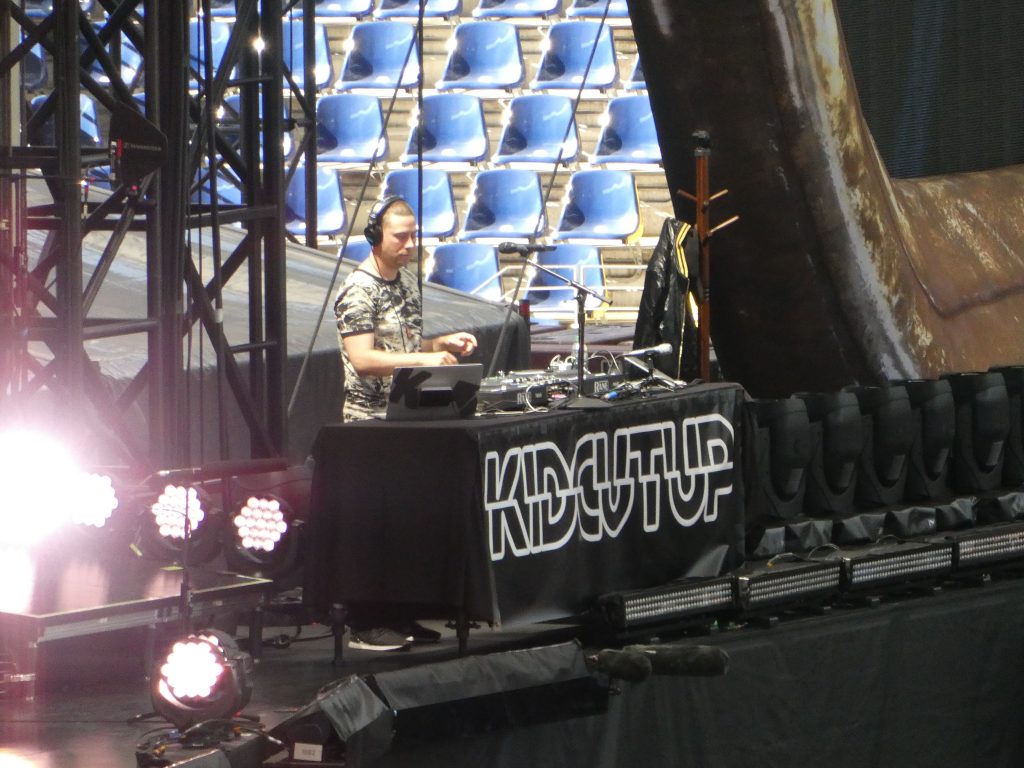 What an awesome DJ! I've seen many many bad ones but this one really knew what he was doing. Mixing so many hits together making us ready to party. He knew how to get the crowd going and was brilliant to have him in-between the two supporting bands. Plus I loved the last 15mins of his set when he literally prepared us for the show with vocal coaching by Freddie Mercury, Hands-up partying with 50 Cent. DJ Kid Cut Up was a lovely addition to the Beautiful Traum Tour and I'd love to see him again.
Bang Bang Romeo
I grew to love Bang Bang Romeo because they're an incredible powerful band from Yorkshire, England. I love how confident Stars – the lead singer – is. No matter what size you are you should be proud of your body and she definitely oozed body confidence and I love her for that. Every time I couldn't wait to see what she was wearing! Ross and Rich aren't shy of colours and glitter either so the three are a match made in heaven. Now let's talk music. The trio rocked their set. They've added two covers – "What's Up?" by the 4 Non Blondes and "Seven Nation Army" by The White Stripes. So good!!! 🙂

With "Shame on you" and "Chemical" Bang Bang Romeo have two powerful rock songs which totally get stuck in your head! I'm actually hoping that they're coming back soon for their own headline show! During their 30mins set I got to rock out and by the time we got to the 2nd gig in Munich I was able to singalong too 🙂 And coming to my last point and why I love Bang Bang Romeo even more they are actually answering you on Instagram – which is why I knew that they wouldn't be performing in Zurich but would still travel along. Such a shame! But I am glad for my four times I did get to see them 🙂
Vance Joy
I was super excited to finally see Vance Joy live and we did get to listen to him for 45mins. He started out with "Mess is Mine" and "Georgia" – a beautiful ballade which I grew to love very much. "Fire and the Flood" got me dancing every time and singing veery highly and loudly haha But what I love about the song are the trumpets and the awesome rhythm! He then asked us if there are some Bruce Springsteen fans? And let me tell you Zurich has the most which made Vance Joy very happy 😀 "Dancing in the Dark" is also a lovely cover.
The summer vibes were big in the 2nd part of the set – and obviously the Aussie knows how to do that. "We're going home" started it off and when Vance Joy brought out the little Ukulele for "Saturday Sun" I definitely couldn't stop dancing! 🙂 "Lay it on me" came before the party really started with a Lionel Richie cover "All Night Long" mixed in with Justin Bieber's "Sorry. Love love loved it !! And then he finally sang his mega hit "Riptide" and now everyone knew who they were actually seeing haha
I can honestly say I am looking forward to seeing him in a small show here in Zurich. So please Vance Joy come back soon! 🙂
Here I Go Again
The awesome band which I will introduce you later started to walk on stage with a song by Whitesnake called "Here I Go Again" so we all knew it's about to start! In typical P!NK fashion she flew in on a huge pink chandelier and very obviously started singing "Get the party started". I loved the start of the show because it meant that we still had two hours of awesomeness to come! 😀 Now it was time to introduce us to the "Beautiful Trauma" tour and in Munich "Are you ready to sweat with us tonight?!" 😀

You guys know that I love confetti and fireworks but I absolutely lose it if an artist has a treadmill kinda thing on stage – and of course, P!NK had it! For "Just Like A Pill" which got all the old fans dancing she walked up and down the catwalk on the treadmill thing and started saying hello to the first rows. Another classic is "Who Knew" and I'm soo happy it made the setlist. In Munich on Night 1 it was soo hot that everyone couldn't really think straight including P!NK 😀 She started with the 2nd verse and had to stop the song after the first few lines. It was so cute hahaha I don't know what it was that day but there was a special atmosphere at the Olympiastadion.
Revenge Land
We were shown a short video which introduced us to Revenge Land. You can see the start of it in my Frankfurt highlights on Instagram. But basically, it said what you can do if your sweetie pees in the shower or farts in bed or pukes on you on a roller coaster. Yes, those are all examples from the video and I loved watching the reactions of the crowd since I knew what was coming 😀
The die-hard P!NK fans knew that "Funhouse" had to come on after this introduction but little did we know that she remixed it with No Doubt's "Just a Girl"! What an awesome combination!! 😀 And yes, P!NK we looove Gwen Stefani haha At the end of this song P!NK introduced us to her awesome band and that's exactly what I'm gonna do now too: Eva Gardner on Bass, Mark Schulman on drums, Stacy Campbell and Jenny singing backing vocals, Justin Derrico aka Spanky on the guitar, Jason Chapman on keys, Jessy Greene on Violin and Cello and Adriana on keys and vocals and guitar. Y'all rock and make this show amazing! THANK YOU 🙂
It's silly if I say this is highlight because actually the whole show is a highlight but let's just say I was looking forward to this song a lot. "Hustle" from the new record was already one of my fav songs before the tour but now it deffo is. P!NK said that this song is for everyone who pissed you off. Plus she also taught us a new dance: The Jitterbug
An unbelievable moment we got to enjoy was when P!NK and Khasan did an incredible acrobatic thing during her song "Secrets". It's just WOW what these two are doing. I won't describe it because there are no words. Just have a look in my highlights… Try Zurich 🙂
Nature
All the dancers and P!NK created a beautiful mystical moment during "Try" and in Munich Night 1 the rain started and the thunderstorms in the back added to the magical atmosphere. I will never ever forget this beautiful moment. It kept drizzling throughout the night and the thunderstorms never came but made for a wonderful backdrop. When "Just Give me a Reason" started all the phone lights went up and I had goosebumps all over my body. In every city except Zurich the phone lights made this song very beautiful. Because Zurich started so early it wasn't dark enough to get the people to take out their phones for this song but wait for it the Swissies are just special! 😀
Up next is a song by Bishop Briggs called "River". P!NK covered the song two years ago at Waldbühne and I fell in love with the song. I am over the moon that she put it back on the setlist. No-one around normally knows this song but it is so powerful and one of my highlights in every city. My Mom filmed the song in Zurich because I could never ever sit still enough to do that. I enjoyed every second of the song and I will post it soon. Now the good news is that if you suffer from the after tour blues as well Bishop Briggs is coming to Europe! Are you joining me??
After water there is fire. "Just like Fire" warmed me up in Berlin and made it even hotter in Frankfurt. Every time I was looking forward where the fire would go off this time. It changed in every city and I loved this surprise moment.
Women are strong
In Berlin we had actual rockets pointing at the sky during "What About Us". It was so beautiful and so special but unfortunately this only happened in Berlin. It was super emotional for me because only a few meters away P!NK performed the song for the first time two years ago. I felt the tears rising so I started filming and I could prevent me from crying. During the last gig in Zurich I didn't want to hold back any emotions so I let it out. I was super sad that it was almost over but also super happy that I still got enjoy another hour of the show.
After this emotional song it's hard to focus on the next song but I am sooo glad that the Swiss audience appreciated "For Now" with lots of phone lights. It was so special because in no other city the lights went up so even P!NK recognized this and said "Thank you, that was beautiful". Now we got to listen to another song of the new album. "90 days" with Wrabel. A beautiful duet and a moment to be quiet – not everyone respected that….
Time for some alone time with Spanky 😀 P!NK and Justin sat down and lots of fans threw stuff at her. So many presents cheese, frogs, ducks…! But I want to mention how special this one present is – a mini chandelier with P!NK just like the one from the beginning. So impressive honestly!
"Time After Time" a cover by Cindy Lauper brought out the lights in Frankfurt. The new song "Walk Me Home" we already got to hear in a new version and in Zurich people started clapping which never happened before! Such a great atmosphere! The Swissies are so different haha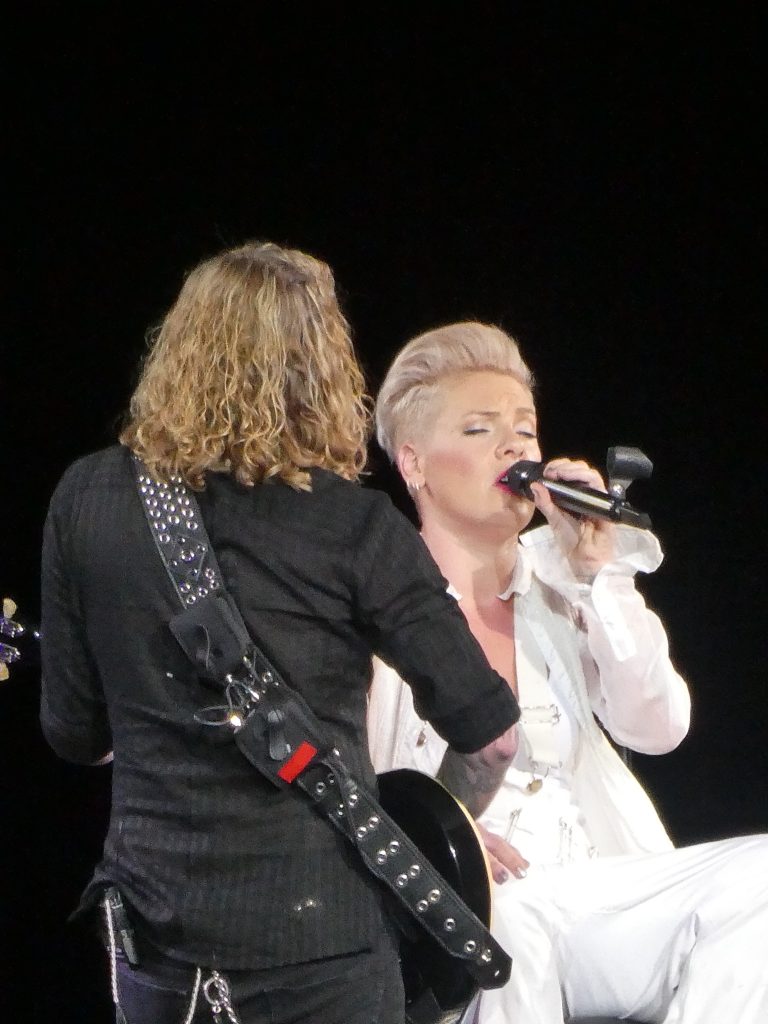 The band joined the two at the end of the catwalk stage. We all had a big ol' party with "I am Here". What a song! You got the biiig anthem moment and also the party in the middle where the band and some people in the crowd danced. "F**kin' perfect" finished the Women are strong part.
My Daughter is beautiful
During "Raise your Glass" P!NK introduced us to the amaaaazing dancers and here they are: Reina Hidalgo, Shannon Holtzapffel, Tracy Shibata, Jeremy Hudson, Anthony Westlake, Remi Bakkar, Khasan Brailsford, Loriel Hennington, Madelyne Spang, Justine Lutz
I will also post a video soon with the whole introduction. They deserve all the applause in the world. Y'all are rockstars!
And finally, Willow is coming on stage as well! Another little badass woman in the making! 🙂
The party is on with "Blow Me (one last kiss)" and 90's remix of "Can We Pretend" which marks the last song of the normal set. Super colourful fireworks and confetti are all over the audience while P!NK slowly descends into the stage floor only to come back with a real bang! The moment everyone has been waiting for.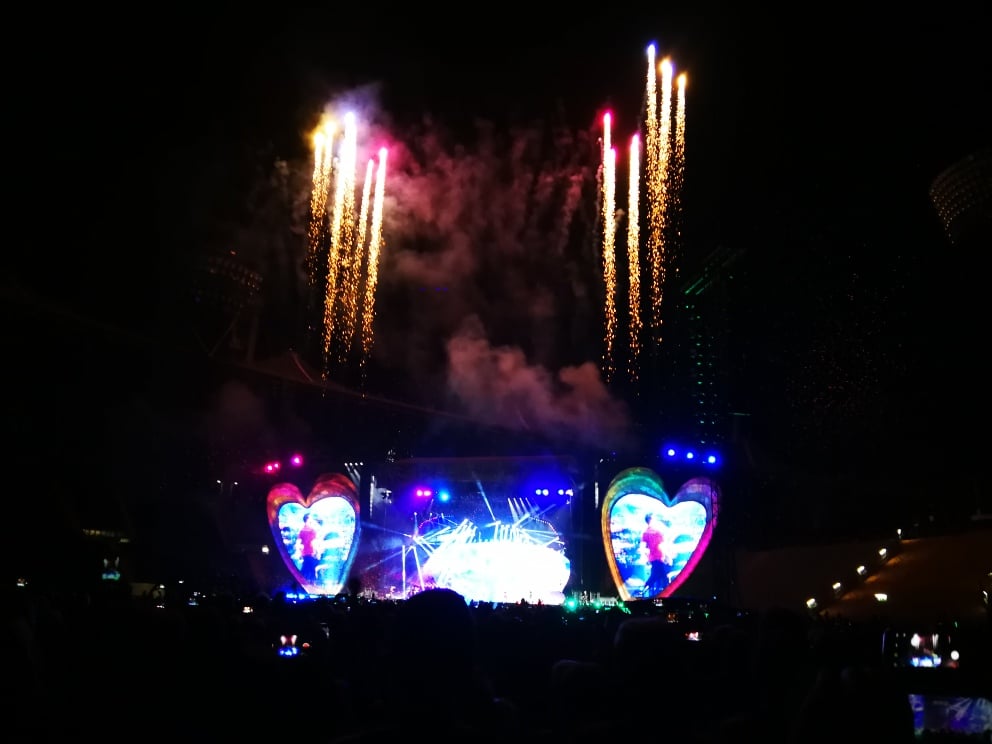 She's singing "So What" and actually flies around the stadium! 😀 It is honestly incredible and I've been speaking to people all over and they couldn't believe what they were seeing. I love the reactions and even if you show videos to people they go: "WOW! Incredible! Unbelievable!" 😀 If you don't know what I'm talking about just watch the video on Instagram.
With one last song after the party P!NK comes back on stage to say a quiet Goodbye to us. "Glitter in the Air" is such a beautiful ballade and so fitting because she sings:
Have you ever wished for an endless night?
Lassoed the moon and the stars and pulled that rope tight
Have you ever held your breath and asked yourself
Will it ever get better than tonight?

Glitter in the Air by P!NK
And let me tell you Munich Night 1 and Zurich were exactly one of those nights that you wished wouldn't stop. I am so happy I got to spend 5 nights with these incredible artists giving their best for us. I will have these memories forever. Thank you!
P!NK proves that she's currently the best live artist in the world. An energetic heartfelt performance that you will tell your grandchildren about. If you haven't seen it you missed out and if you're about to see it you are definitely in luck! 🙂