This is the 2nd concert of the festival series Live at Sunset which I am attending. It's been already 2 weeks since I've seen Naturally 7 and Mary J. Blige there. Thanks to a good deal we were able to afford a 2nd concert. Katie Melua hasn't been very active lately and this is one of only 5 concerts this year.
To be honest with you I was very sceptical about this concert since I really don't like her song "9 million bicycles". I've realised now it's because if I hear that song just once a day it will be stuck in my head forever!
For the 3rd song "Crawling Up A Hill" I decided to sit down and listen to the song with my eyes closed. I think it was a great idea so I could listen to her voice without any distraction. I did this because Seven asked us to do this at his set at the Gurtenfestival and I really enjoyed it so I had to try it with her too.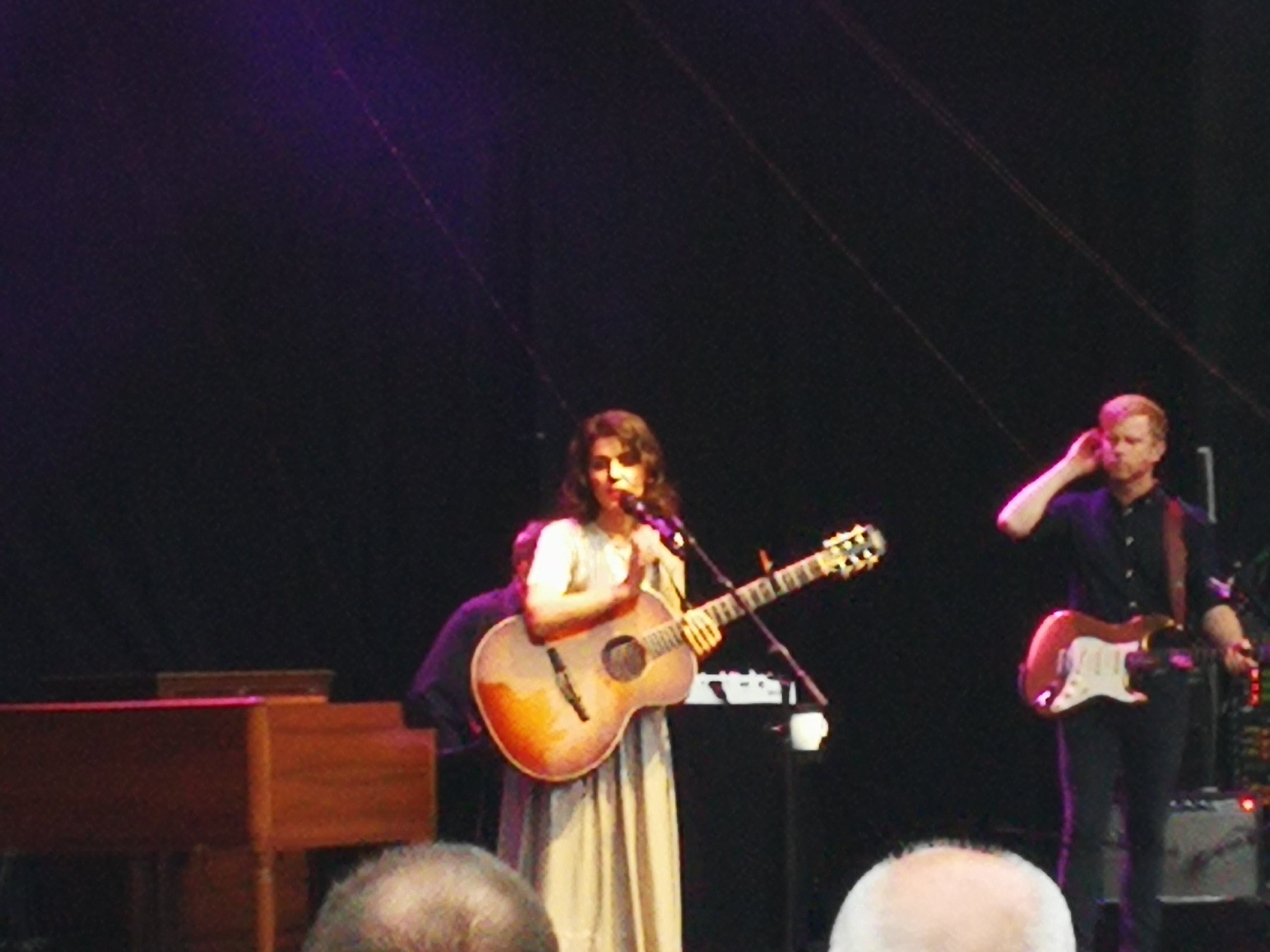 Before every song she would explain the story behind it and this is something I really enjoy. So her concert consists of 21 little stories told by a silky voice. Katie Melua is one hell of a songwriter who turns a story into a song. She stood there with her guitar with 4 other awesome musicians and turned this into a wonderful quiet concert. (I was really glad since I had a massive headache that day)
After the "Plane Song" it started to rain or should I say pour down! So Katie said "Ohh has it started to rain? Should we wait until you put your ponchos on?" I loved that! We went to sit in the back because I wasn't particularly keen on getting soaked since I'm battleing a cold anyway. As soon as I sat down I got a text by a friend telling me that Chester Bennington committed suicide and I didn't know why but I suddenly felt really sad and Katie's next few slow song increased that feeling.
Luckily she decided to cover Janis Joplin's "Piece of My Heart" and this lifted my spirit. I love this song and Katie Melua should be doing more up-tempo songs. It really suits her. I think this was my favourite song of the night. Then there was a little break so people could use the restrooms and stock up on drinks.
"Thank you Stars" is a wonderful song and my favourite of the 2nd part of the show.
Some call it faith, some call it love
Some call it guidance from above
You are the reason we found ours
So thank you stars
Aren't these beautiful lyrics?
After "Perfect World" she sang her hit song "Nine Million Bicycles" and the audience "Ahh'd" and "Ohh'd" and I thought please don't be singing this song 🙂 And of course this song stuck in my head all night!
For the two encore songs she stood alone on stage just with her guitar and her beautiful voice. She covered Shirley Bassey's "Diamonds are forever" and sang "I Cried For You". A very slow and quiet finish but it suited her and the whole concert. I enjoyed the concert but I don't think I would see her again. She is a cute girl but I don't particularly fancy her music even if I loved a few songs of her.
P.S: Have a look at the title of the set list. THE greatest set list ever!! Isn't this too funny? 🙂

How did you like the concert? Please let me know in the comments below!