This is most difficult task I've ever had to do for this blog. I cannot choose my highlights! I loved each and every gig I attended this year. So many special moments I witnessed thanks to incredible artists who gave 100% to their audience. So I will try to name a few gigs and I will let you know why they were special to me. I apologize already since this blog post will probably the longest I've ever done.
My gig highlight of the year: Marteria

I saw him twice – at Gurtenfestival and at his headline show in Zurich. Both times he completely took over the whole venue and the people were at his command. The atmosphere was incredible and the energy blew the roof of the building. But my fondest memory is actually the morning after the Gurten gig. We literally stayed awake until the clouds were purple again which is one of Marteria's songs "Lila Wolken". It was the perfect ending to a very special four days at the Gurtenfestival.

The most special venue: P!nk

When it was announced that P!nk would only play 5 odd shows this summer I knew I had to go to Berlin to see her. I've never been to Berlin so it was even more special. I love the city and I loved the two gigs at the Waldbühne. A stage set into midst of a very green forrest just outside the city. It was raining a lot but that didn't matter. Finally after years I saw my P!nk again. I grew up with her and her gigs and it will forever remind me of my childhood. It was just perfect.
My first interview: Naturally 7

I've always been a huge fan of the 7 lads from America but this summer they actually made a huge accomplishment possible. They agreed to give me my first interview for Kekoas Korner after their wonderful gig at the Live at Sunset the day before. I will always be very grateful for that and will support them forever. Their shows are brilliant and I would suggest if you haven't seen them – go see them!!! It's well worth your money plus they really make an effort to meet the fans after the show. Go say hello.
My first time as a Merch Seller: Welshly Arms

The guys from Welshly Arms were looking for a volunteer to sell their merchandising. Obviously I took that opportunity 🙂 Let me just say each and everyone of them were super nice and very grateful that I helped them. I was happy to help plus I got to witness an amazing gig! Being a Merch girl is great and I loved to talk to all the fans about the band. I also got to interview the guys from Welshly Arms before their show.
The best entertainer EVER: Robbie Williams

Robbie Williams is hands down the best entertainer and knows how to put up a good show. He rocked the Letzigrund for around two hours and blew fireworks and confetti and fire into the air like there was no tomorrow. He also brought out his dad which gave the show a very cute touch. Only recently it was brought to our attention that Robbie Williams actually was quite sick during that performance after which he flew directly to London into the intensive care unit for a week. It was actually a miracle that he performed that night! Thank you for that but please next time listen to your body Mr. Williams and cancel the show.
The longest show with the most stars: Capital's Summertime Ball

We spent 7 hours at the Wembley stadium in London and got to see so many stars. Bruno Mars opened the show. JP Cooper, Niall Horan, Charlie Puth, Dua Lipa, Clean bandit and this is just the beginning. My highlight was that I finally got to see Sean Paul live. He did an amazing job and since he was quite close to the end he took my last energy so that I was seriously knackered and couldn't enjoy Little Mix who closed the show.
The hottest gig: Pegasus

It was July and it was boiling hot. The Pegasus gig was at 8 IN THE MORNING on a ferry on lake Zurich. It was the perfect weather and the perfect gig. Pegasus are a super talented band from Switzerland and everyone just had a good time and by the time it finished we were already sweating.
The most colourful gig: Coldplay
It took me years to like
Coldplay
and to make me want to see them. This summer I suddenly felt the urge so within two weeks I organised a little trip to go to Frankfurt and see them. The weather was awful but the gig was great! Tove Lo and Femme Schmidt supported them. But what I liked the most were the colours. I have never seen such a colourful concert and what I also loved was how appreciative the band was.
The best rock gig: Stone Sour
That's a hard one. I really loved
Guns 'N Roses
and you know they are just legendary!
Mando Diao
were incredible to see live and I want to see them soon again! But I think I will give this one to
Stone Sour
because they seriously f*****g rocked and Corey Taylor has an amazing voice aaaand he looks gorgeous! 😀
The most special voices: Tom Grennan
This one was also very close.
Jacob Banks
and
Tom Grennan
went head-to-head. Both have super special voices which give me goosebumps and both are very very talented. But Tom Grennan got the call because he seemed more open to his fans and made the effort to meet each and everyone. This is what I want to see in an aspiring artist.
Best Newcomer 2017: KARAVANN

I got to meet the two lovely lads from KARAVANN for an interview before I even seen them live. They seem really serious about their venture and I have a good feeling about their journey. In August I finally got to see them live and believe me they didn't disappoint. They have an incredibly international sound and they make sure that you have a good time at the gig. Please check them out and go say hi after the gig 🙂
The worst gig EVER: Kings of Leon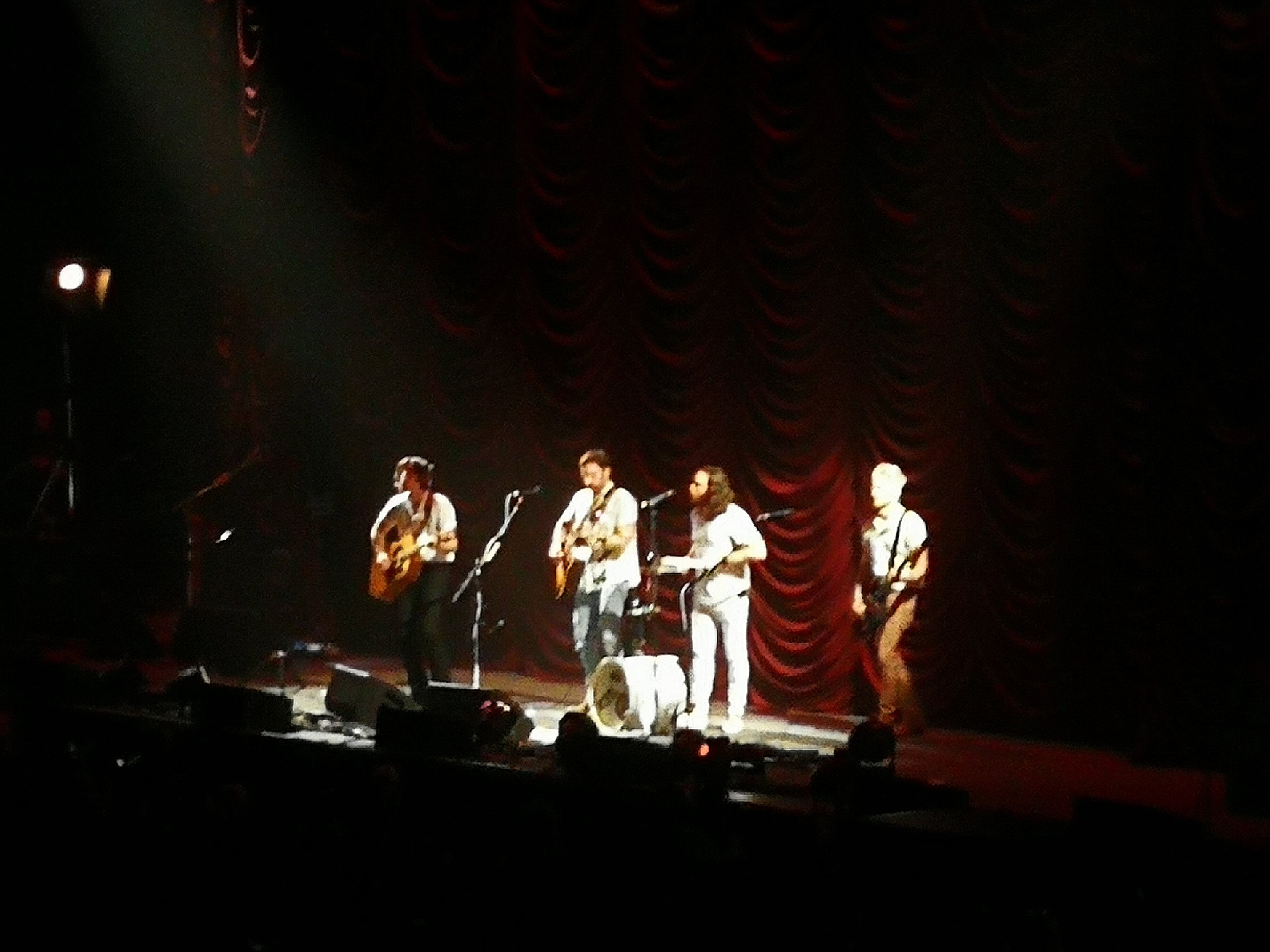 I didn't think I would ever say this but unfortunately I had to witness the worst show ever from Kings of Leon. They didn't want to be on stage, they didn't know where they were and they played songs no-one wanted to hear. For an hour you could hear a pin drop in the Hallenstadion and everyone was quite baffled at how bad they were. Since I paid a lot of money to see them it was even worse. So two big thumbs down for you guys!
The most relaxing gig: Anastacia and Baschi at Bossard Arena

The people were super relaxed and to be honest the arena was quite empty. Nonetheless did we have a brilliant time! Anastacia was amazing and she is just a force on stage. Baschi is our Swiss Robbie Williams and entertained the sh*t out of the Arena. So I had space to dance, I knew the songs, I had an amazing time! 🙂
The Scandinavian gigs: Lukas Graham & Mans Zelmerlöw
I got to see the sound check of Lukas Graham and we spoke a little afterwards. Super lovely lads and just very talented and grateful to travel the world with their music. I've seen them twice already and they've done a brill job both times. Mans Zelmerlöw won the ESC and came to Switzerland twice already. Always very special gigs!
Kekoas Korner's soft spot: Gavin DeGraw
I literally grew up with his music. His song "I don't want to be" is my hymn for anything. When I listen to the song I always have to sing out loud. He is an incredible musician and I am so glad that I was always able to meet him after the show. He is so nice. If you have the chance please listen to this guy.
The Irish frenzy: Walking on Cars, The Coronas, Tom Walker
As you might know I go a little crazy for Irish bands.. 😉 The lovely
Walking on Cars
came to Switzerland 4 times this year and I saw 3 of them. Zurich, Lausanne and Lucerne. Each gig was different and I just love their music! They were supported by Tom Walker. Another Irish lad who's very talented and is coming to Switzerland on 20th April 18. Go check him out! Lastly I got to
interview
the Coronas
in October and the lovely Danny gave me some tips for my trip to Dublin.
The good times with Bastille

Bastille always make sure that everyone has an amazing time. We jump, we kinda dance, we sing. They are an incredible live band and unfortunately I won't be seeing them next year on April, 20th 18. But please go and let me know how it was. The very talented brits are coming back with their newest record and I'm very much looking forward to see them some other time…. maybe at a festival again.
Best Merchandising Top 5:
1. Welshly Arms – This has to be number 1 since I sold their merch and I proudly did so because they really were amazing. I love the designs of the T-Shirts and the Jackets. They also had Vinyls and hats too. I still wear their stuff every other day.
2. Guns N'Roses – The designs of the shirts are amazing and I nearly got two shirts.
3. Ed Sheeran – He had a various range of Merch. I really loved the Army Jacket and the lumber jack shirt. The jacket was one of my favourite this summer.
4. Stone Sour – Lots of nice designs on T-Shirts plus signed Vinyls.
5. Amber Run – I loved the lion on their shirt and I still regret that I didn't buy that shirt.
Jacob Banks came really close to making it into the Top 5. He was selling a shirt where it said in this is merchandising and below Jacob Banks. I thought this was hilarious and I was this close to buying it.
All those gigs wouldn't have been possible without the help of ARTNOIR magazine, Just Because, Mainland Music, ABC production and Goodnews. Thank you for supporting Kekoas Korner!
Lastly I want to thank all my concert buddies for joining me at various gig and for having as much fun as I did! <3
I cannot wait for all the gigs in 2018! So bring on the new year 🙂
I'd love to know what your concert highlights 2017 are. Please leave a comment below or on Kekoas Korner social media channels Facebook, Twitter or Instagram.